News
Tennis shoes for the Fingers in My Pocket Doll available in purple and black. (Instructions in "Shaped Beadwork and Beyond) $1.00/pr plus postage in the US: $3.00. Please email me. (Note: postage outside the U.S. is $7.00 for any number of pr.)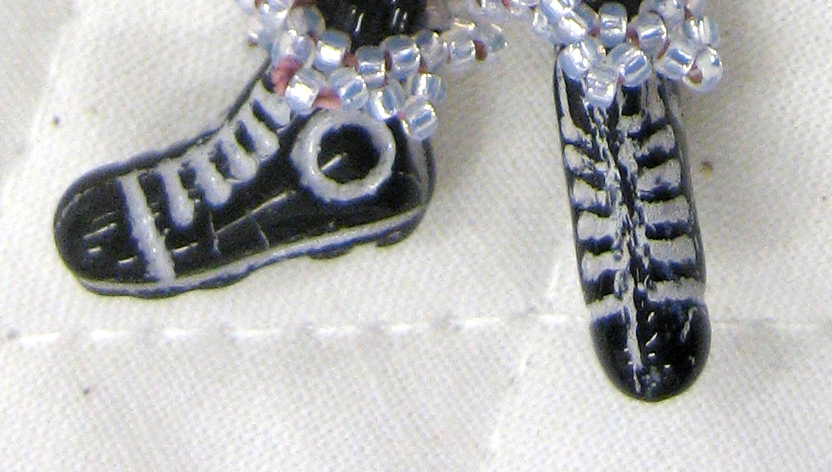 Corrections to Shaped Beadwork and Beyond: Click here
Download my free 2014 Beautiful Beads Calendar.
Click here.

The Bead Pal Project 1: Beaded Beads, click the image at left.
The Bead Pal Project 2: Flowers
Click here for the booklet.
Bead Pals 3: Message in a Bottle Beaded Tubes
Click here for the booklet.
Bead Pals 4: Shapes
Click here for the booklet.
About me.....Diane Fitzgerald is a bead collector and jewelry designer who works with a variety of beads large and small, old and new. Since 1989, Diane has taught classes at her shop, Beautiful Beads, in Minneapolis, Minnesota, across the U.S. and internationally. As a collector, she focuses on contemporary American art glass beads and European and Japanese vintage beads. Diane has traveled to South Africa to study Zulu and Xhosa beadwork and to Japan, Czech Republic, Germany, the UK and other areas to learn about the glass bead industry and meet beadworkers and beadmakers. Diane has a master's degree in Mass Communication from the University of Minnesota with a minor in Design.
Shop hours are by chance and appointment. Please call or e-mail me (dmfbeads@bitstream.net) if you'd like to stop by.