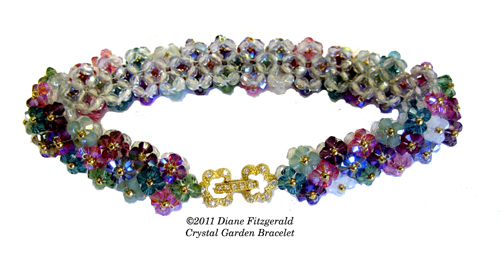 Limited Edition Kit: Crystal Garden Bracelet
Let your flowers blossom on your wrist year round with the Crystal Garden Bracelet in multi-colors. Made with seven colors of Swarovski bicone crystals, firepolish crystals, gold plated seed beads and a fold-over clasp in vermeil with cubic zirconium. You provide needles and Fireline 6 lb. crystal.
$95.00 plus $4.00 postage.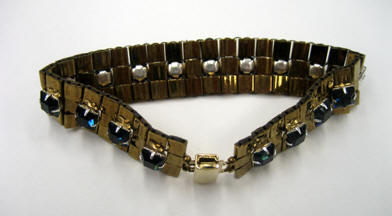 Limited Edition Kit: Tila Bracelet with Square Set Stones
An elegant, and simply understated bracelet made with square stitch. Kit contains Tila beads and 18 Swarovski square set stones in beautiful Montana Blue, or Amethyst with bronze Tilas; or white opal with black Tilas. Kit price: $65.00 plus $4.00 postage.